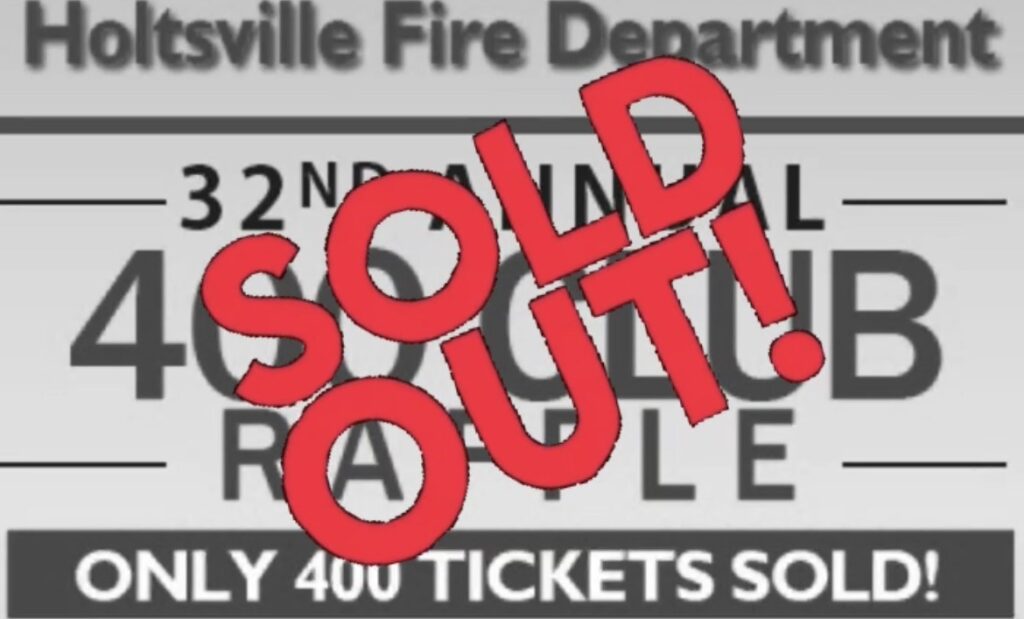 —–UPDATE: JUNE 2ND 2022—–
THIS EVENT IS SOLD OUT! AT DOOR TICKETS $30 PER PERSON
The 32nd Holtsville Fire Department 400 club is officially SOLD OUT! If you did not get a chance to buy a ticket, it will be $30 dollars per person at the door which will admit entry into the event and includes food, beer, wine, soda, games, and live music! In addition you can enter to win the raffle for the #1 and #400 ticket as well as all other raffles and games!

Holtsville Fire Department's 400 Club Raffle is back after 2 years of cancellations due to Covid-19.
[displayCountdowns id="2425″]
Our 32nd annual raffle will be held on June 4th 6pm-10pm at the Holtsville Fire Department 1025 Waverly Ave, Holtsville, 11742
Drawing & Barbecue w/ Games of Chance & Many Raffles
Beer | Wine | Soda
10 Chances to Win
1st Prize – $10,000
2nd Prize – $4,000
3rd Prize – $2,000
4th Prize – $1,000
5th-10th Prize – $500
Grand Prize to be Drawn Last!
$100.00 Per Ticket – 2 People Admitted Per Ticket
Winner Need NOT Present to Win! Must Be 18 Years of Age to Attend Event!